Plastic industry has a history of 120 years. After more than a century of great development, plastic is now integrated into all aspects of human life and work, from machinery, electronics, automobiles, information, aviation, aerospace, light industry, military industry, transportation, building materials, medical, biological, energy and other industries. And 60% – 80% of the above industry parts need to rely on mold processing molding, so mold as an important material molding process equipment in the history of the development of the plastics industry plays a pivotal role, and therefore often has the reputation of the "mother of industry".
Although the plastic industry has developed for more than a century, and the development of China's plastic mold industry started relatively late, but fortunately as a rising star of the domestic plastic industry has shown a blowout speed of development. Specifically, the development of mold design and manufacturing technology in China has experienced the embryonic stage of manual workshop manufacturing, the rapid development of industrial production, the stage of product competition and the stage of brand competition in modern production.
Especially in recent years, with the rapid development of China's automotive industry, electronic information, home appliances, building materials and machinery industry, the mold industry has achieved rapid development.
At present, the total volume of mould production in China is already in the forefront of the world, and there are many mould manufacturing enterprises. However, the overall manufacturing level of mold design is still lagging behind those of advanced countries such as Germany and the United States.
Specific manifestations are as follows: low-tech molds have oversupply, and high-tech molds are still far from meeting the needs of national economic development, such as precision,
Complex stamping molds and plastic molds, car panels molds, electronic connectors and other high-end molds such as molds and molds are still a large part of the need to import.
In order to adapt to the new situation and meet the challenge of the world's high-end mold, China's mold industry in recent years has continuously upgraded the technical level. Many enterprises have applied CAD/CAE/CAM integration technology, three-dimensional design technology, ERP and IM3 information management technology, as well as high-speed machining, rapid prototyping, virtual simulation, robot technology, intelligent manufacturing and network technology and many other high-tech, through a variety of quality system certification enterprises are gradually increasing.
Overall, there will be 5 major development trends for the domestic plastic mold industry in the future.
Mold accuracy is higher.
With the continuous improvement of living and production levels, the requirements for product structure are also constantly improving, which requires that the mold also has higher ornamental and more sophisticated functional design. However, the traditional mold processing methods, which depend on the operator's personal technology, use a wide range of tools and complex, processing cycle is also relatively long, has been unable to meet the requirements of plastic mold manufacturing. Therefore, high-precision three-dimensional structure mold will become a new growth demand point, the future development of mold will be toward precision, three-dimensional, efficient, rapid and other directions.
Higher service life of plastic mold
Plastic mold life is an important parameter of the mold, which relates to the quality of the product and the overall cost of the product. At present, the life of the mold is more than 1 million plastic cycles. For products with higher requirements, imported steel products with higher quality can be selected for production, but the material cost and processing cost also increase accordingly. High.
Shorten mold manufacturing cycle
Now the market competition is fierce, product replacement speed is fast, how to make products appear faster and better in front of consumers, is the key to winning the enterprise. Therefore, the product from design to finished product output is required to be controlled in a very short period of time; moreover, many products are assembled by a variety of structures and materials, often require plastic parts to be designed and completed in a very short period of time and efficient molding, thus shortening the plastic mold manufacturing cycle, at this time requires higher production workers. Arts and production efficiency to meet the entire production needs.
Division of design and manufacturing is clearer.
At present, China has formed a meticulous and professional form of plastic mold design and manufacturing cooperation. The product requirements are put forward by the enterprise, and then the design scheme is put forward after 3D modeling by the design company. After the scheme is determined, the mold is manufactured by the professional mold development company, and the mold is manufactured by the plastic processing factory. And these links have been specialized and large-scale, not limited to the local, but through the professional industrial chain can be completed, manufacturing characteristics of different localization and more detailed division of labor.
Enterprises will develop towards specialization and specialization.
Plastic molds usually need only one or several sets to meet the production requirements, belong to single-product production, but the components of the mold are very many, from the largest mold to the smallest thimble, are crucial, each part affects the final product quality, so the quality of each part must be up to To very high precision and quality requirements. Therefore, the demand for the subdivision and specialization of spare parts has been raised. Only by focusing on the specialty can we complete the production of higher quality products.
Facing the challenge of foreign advanced technology and high quality products, China's plastic mold industry should continue to strengthen the R&D of plastic materials and injection molding process, accelerate the integration of resources into the park development, and mold test results inspection and other tooling level must be kept up as soon as possible, so as to shrink in technology, management, tooling level and so on. The gap between short and advanced international standards.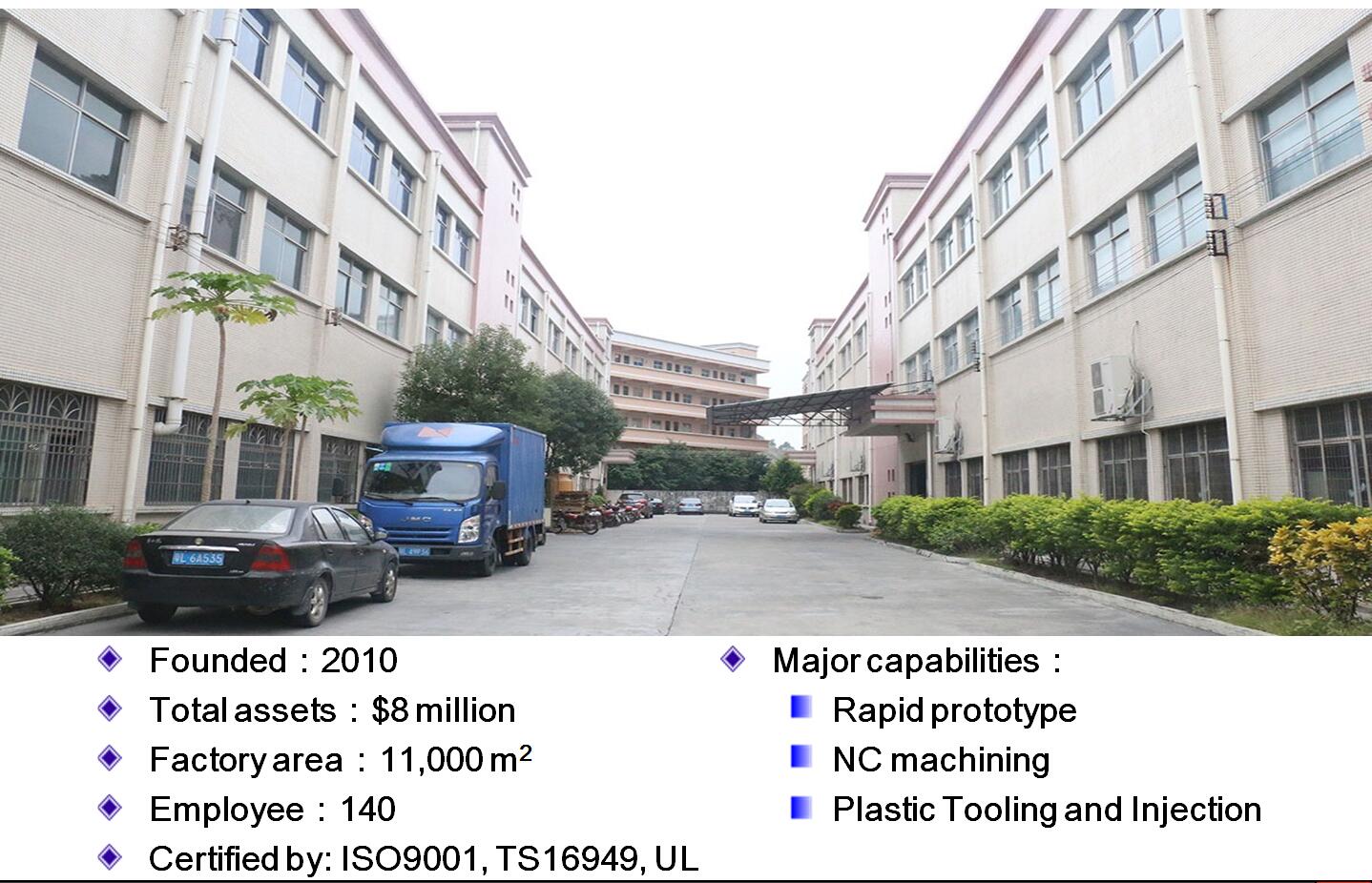 JasonMould Industrial Company Limited, established in 2010, is a leading injection moulding manufacturer in China. JasonMould specializes in plastic mould production for household appliances, medical equipments, electronic equipments, safety equipments as well as monitoring system.
The company has over 15000 square metres factory. With plastic injection tooling divisions possessing different machinery and expertise, JasonMould offers tools from small and precise mobile phone parts to as big as automotive parts. Our tools are mainly exported to U.S.A., Europe, Japan and UK. JasonMould's diversification strategy and full service has won compliment from customers all over the world.
Our mission is to provide our customers high quality moulding products and services. We aim to exceed our customers' expectations of pricing, quality and on-time delivery. To achieve our mission, JasonMould:
Commits to continually improve employee skills and efficiency,
Provides our employees a clean and safe working environment,
Upgrades machine technology and support equipment through a strict maintenance program, and
Maintains customers' tooling to its highest peak of performance
For more about custom manufacturer of plastic molding products,please visit https://www.jasonmolding.com/
Inquiry Contact:
Contact person: James Yuan
Company name: JasonMould Industrial Company Limited
Address: LongGang Village,LongXi Town,BoLuo County,HuiZhou City,GuangDong Province, China
Telephone: 86-752-6682869
Email: [email protected]
Website: https://www.jasonmolding.com